Location: Phoenix Club in #Anaheim
Date: January 23rd, 2016
Occasion: Pirate Ball
Pirate Ball: come one, come all!  Last Saturday was the 2nd Annual Piratenball at the Phoenix Club.  I was lucky enough to hear about it ahead of time so we all planned and dressed up and pre-gamed beforehand and then we set ourselves loose on the Ball!
That day also happened to be the very day my sister-in-law, one Miss Olivia Noel, was celebrating her birthday.  A lady never reveals her true age so I don't know how old she actually turned but i'm sure it's around 21.  So we all got together at Heather and Paul's place to have beer and snacks and cake for her birthday, that was a blast.
There was a great selection of beers in the fridge but what did I grab?  A Bud.  That's right…I'll stick to my 5% Bud, tried and true.  Ha.  We were there about 2 hours and I had 3 beers.  Everybody except me had shots of Catch Fire, with the excuse that I had been recovering from a case of bronchitis that won't go away.  I didn't want to get too drunk ahead of time because I was ready to go all night long.  Catch Fire is the best tasting alternative to FireBall.  It is not as sweet and goes down smoother.  We started out years ago with the FireBall standard and now we all happily enjoy Catch Fire for our Pirate Shots.  Don't get me wrong, i'll still drink FireBall any day of the week but I prefer Catch Fire.  If I drank shots at home, it would be Catch Fire shots.  Even though there is half a bottle of FireBall in my freezer.  I'm such a contradiction.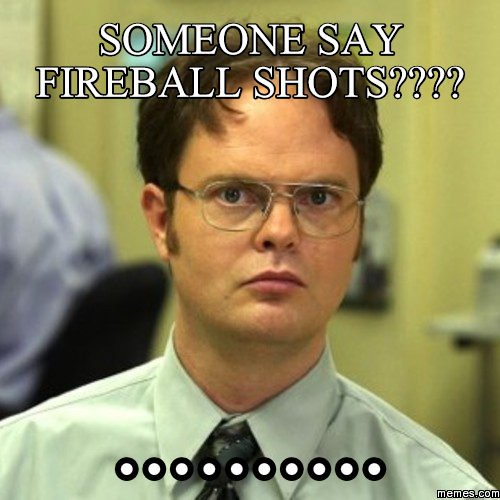 At the Pirate Ball, I traded up for some of the Phoenix Club's generic Oktoberfest beer.  Damn, it was so good!  Like I mentioned before, I had been sick and I hadn't been drinking so that fine beer went down like a dyke at a girl scouts meeting.  Gross, btw.  That was the best I could do.  Sorry.
Sean had Kostriker and that was dark and hearty.  I drank a Bitburger for my last beer.  I got so drunk that by 9:00, I was on the dance floor with all the other Pirates.  Sean and I only danced for one song but it was incredibly romantic (queue violins, release the doves).  We never dance because I am hardly ever that inebriated where there is an opportunity.  I'm one of those people that dances at weddings like a fool until I get out of breath, which only takes about 2 minutes.
We ended up finishing our beers and going out to the car to get another oxygen for me.  It seemed like we were gone only 5 minutes but by the time we got back, mostly everyone had left.  We ran into Olivia and Mat and they were on their way out as we were just coming back in.  So, oh well.  We were home safe by 10:30, where we had a couple more beers and then went off to sleepy time.  And I didn't even wake up hungover the next day!  That's a good moral.